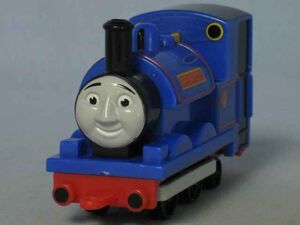 Sir Handel is a narrow gauge engine part of the Skarloey railway. He first worked on the mid Sodor railway with Duke & Peter Sam. They had great fun there and Sir Handel and Peter Sam would call Duke "Grandpuff" until they heard about Smudger. But then many years later the line closed down plus Peter Sam & Sir Handel were sold. After that Peter Sam & Sir Handel came to the Skarloey railway Sir Handel was upset & called Skarloey "rubbish" & Sir Handel also called the coaches "cattel cars" which insulted them. Then Sir Handel's driver told Sir Handel that there is more work to be done. So Sir Handel derailed on purpose! After that Sir Handel was shut uped in the shed. After awhile he got brand new wheels (dubbed by the Skarloey railway "steamroller wheels") and Sir Handel got into a fight with a steamroller named George and George hit Sir Handel's freight cars and George got in trouble and was sent away. After that Sir Handel had great fun on the Skarloey railway and more escapades too. Now Sir Handel works on the Talyllyn railway currently & will return to the Skarloey railway.
Ad blocker interference detected!
Wikia is a free-to-use site that makes money from advertising. We have a modified experience for viewers using ad blockers

Wikia is not accessible if you've made further modifications. Remove the custom ad blocker rule(s) and the page will load as expected.